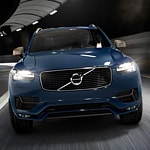 The Volvo XC90 R-Design is beautifully appointed and offers incredible fuel economy. It's a luxury performance SUV that remains quite popular for many good reasons.
Power-Operated Contour Seats

Stepping into a Volvo XC90 R-Design is thrilling for many reasons. Chief among those reasons is the power-operated contour seats. This is a feature that provides an incredible amount of comfort and support. You'll feel the difference, even when road conditions are less than ideal.

Perforated Nappa Leather and Nubuck Textile Upholstery

?What makes the interior of the Volvo XC90 R-Design so luxurious? There are many features that elevate this SUV, such as the perforated Nappa leather and Nubuck textile upholstery. You'll love the way these quality materials look and feel. Both Nappa and Nubuck materials are known for excellence.
Is the Volvo XC90 R-Design right for you? Find out by going on a test drive today. Visit us here at Park Place Volvo Cars.