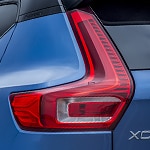 The Volvo XC40 is a luxury SUV with a lot going for it. Its streamlined look and overall practicality has given it quite a reputation here at Park Place Volvo Cars. One thing we've been particularly focused on is the vehicle's exterior, which we've been particularly impressed with. Any time a vehicle has noticeable exterior features, they're worth mentioning.
One exterior feature that the Volvo is sporting are the aluminum integrated roof rails, which add a streamlined and sporty charm to the vehicle, in addition to speeding up your cargo loading procedures. Besides these roof rails, the XC40 also boasts door handles which light up to make their location known in the dark. They also add a nuanced and decorative appeal to the vehicle at night.
If you're someone who has to see something to believe it, then come by Park Place Volvo Cars to experience the XC40 in all its glory by taking it out for a test drive!