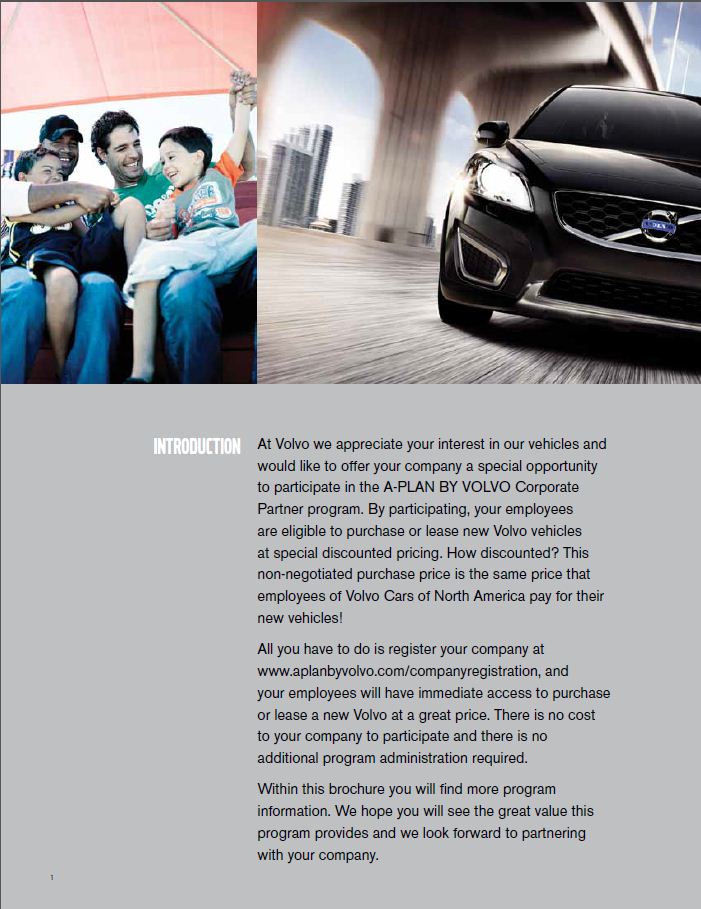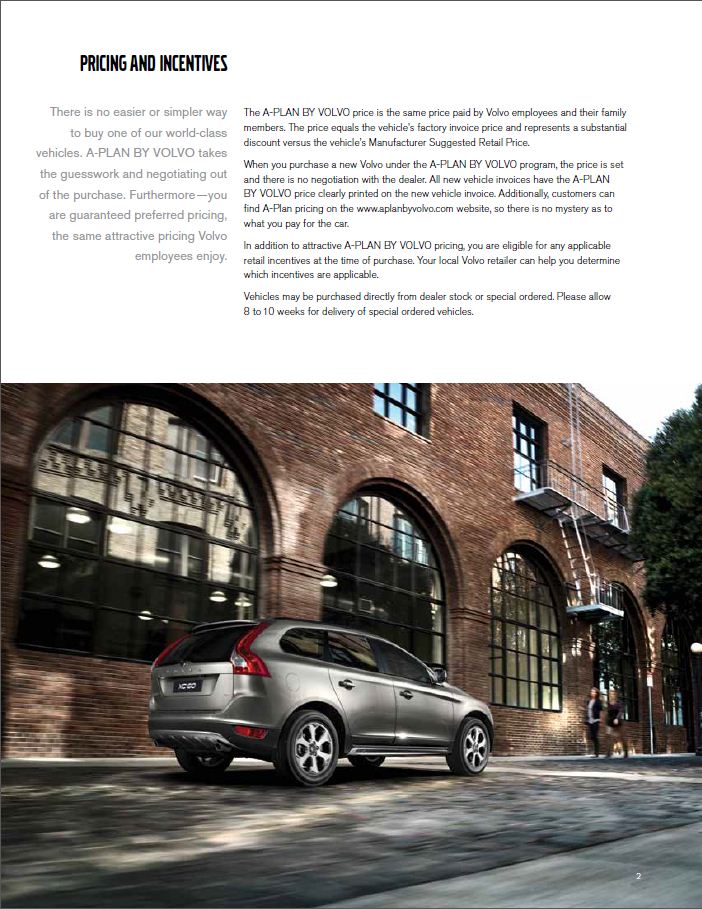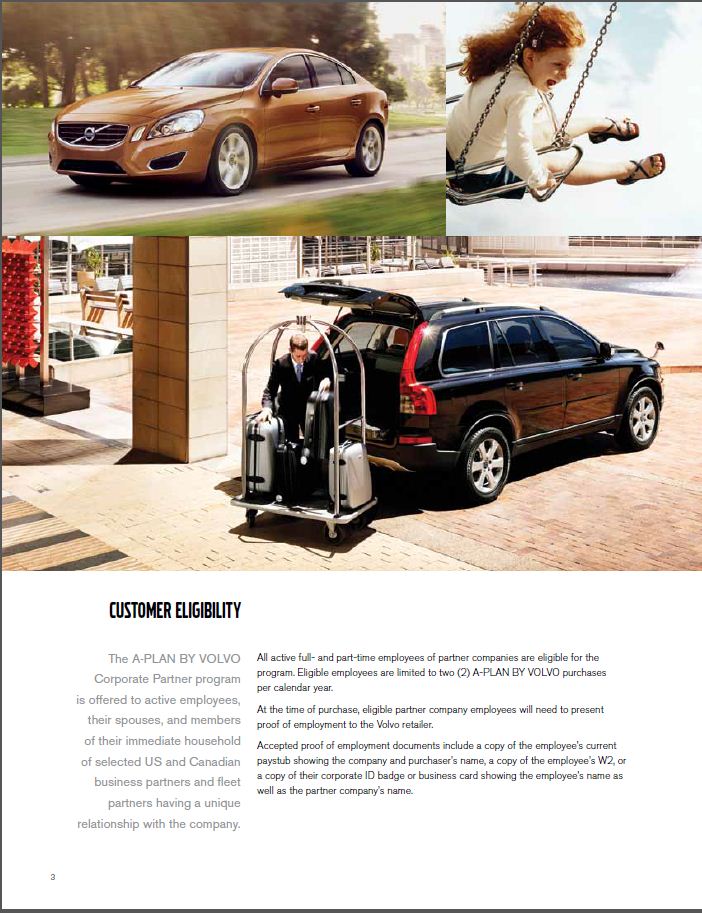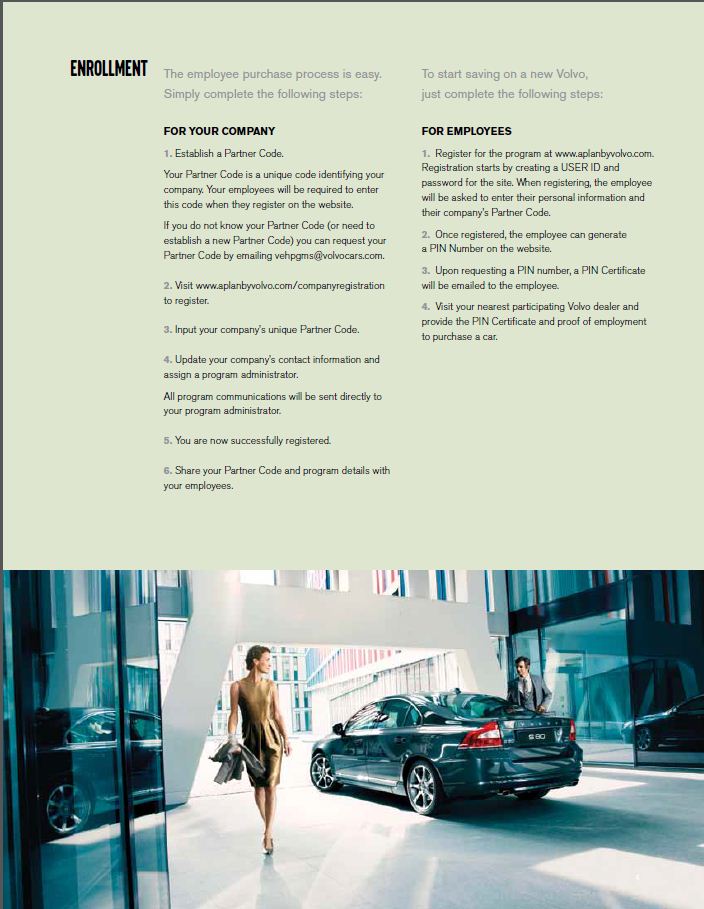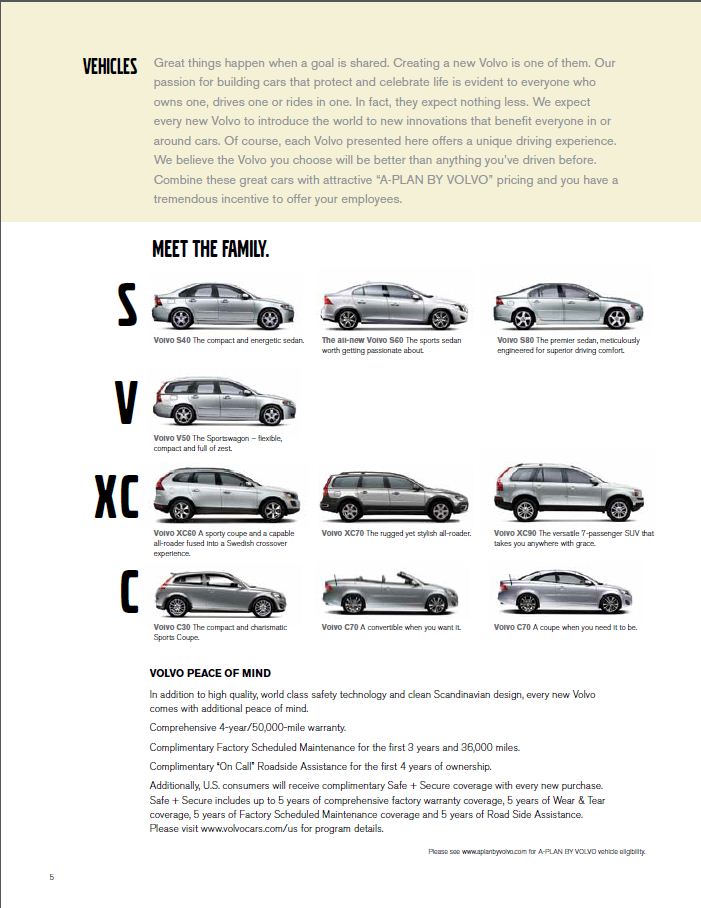 At Volvo of Dallas we appreciate your interest in our vehicles and would like to offer your company a special opportunity to participate in the A-PLAN BY VOLVO Corporate Partner program. By participating, your employees are eligible to purchase or lease new Volvo car at special discounted  Volvo pricing. How discounted? This non-negotiated purchase price is the same price that employees of Volvo Cars of North America pay for their
new vehicles!
All you have to do is register your company at
https://aplanbyvolvo.com/Register
, and your employees will have immediate access to purchase or lease a new Volvo at a great price. There is no cost to your company to participate and there is no additional program administration required. Within this Volvo A Plan brochure you will find more program information. We hope you will see the great value this program provides and we look forward to partnering with your company.
Make an Inquiry
* Indicates a required field
The A-Plan by Volvo price is the same price paid by Volvo employees and their family members. The price equals the vehicle's factory invoice price and represents a substantial discount versus the vehicle's Manufacturer Suggested Retail Price.  When you purchase a new Volvo under the A-Plan by Volvo program, the price is set and there is no negotiation with the dealer. All new vehicle invoices have the A-Plan by Volvo price clearly printed on the new vehicle invoice. Additionally, customers can
find A-Plan pricing on the www.aplanbyvolvo.com website, so there is no mystery as to what you pay for the car. In addition to attractive A-Plan by Volvo pricing, you are eligible for any applicable
retail incentives at the time of purchase. Your local Volvo retailer can help you determine which incentives are applicable. Vehicles may be purchased directly from dealer stock or special ordered. Please allow 8 to 10 weeks for delivery of special ordered vehicles.
All active full- and part-time employees of partner companies are eligible for the program. Eligible employees are limited to two (2) A-Plan by Volvo purchases per calendar year.
At the time of purchase, eligible partner company employees will need to present proof of employment to the Volvo retailer. Accepted proof of employment documents include a copy of the employee's current
paystub showing the company and purchaser's name, a copy of the employee's W2, or a copy of their corporate ID badge or business card showing the employee's name as well as the partner company's name.
1. Establish a Partner Code.
Your Partner Code is a unique code identifying your company. Your employees will be required to enter this code when they register on the website. If you do not know your Partner Code (or need to establish a new Partner Code) you can request your
Partner Code by emailing vehpgms@volvocars.com.
2. Visit www.aplanbyvolvo.com/companyregistration
to register.
3. Input your company's unique Partner Code.
4. Update your company?s contact information and assign a program administrator. All program communications will be sent directly to your program administrator.
5. You are now successfully registered.
6. Share your Partner Code and program details with your employees.
To start saving on a new Volvo, just complete the following steps:
1. Register for the program at www.aplanbyvolvo.com. Registration starts by creating a USER ID and password for the site. When registering, the employee will be asked to enter their personal information and
their company's Partner Code.
2. Once registered, the employee can generate a PIN Number on the website.
3. Upon requesting a PIN number, a PIN Certificate will be emailed to the employee.
4. Visit your nearest participating Volvo dealer and provide the PIN Certificate and proof of employment to purchase a car.
Great things happen
when a goal is shared. Creating a new Volvo is one of them. Our passion for building cars that protect and celebrate life is evident to everyone who owns one, drives one or rides in one. In fact, they expect nothing less. We expect every new Volvo to introduce the world to new innovations that benefit everyone in or around cars. Of course, each Volvo presented here offers a unique driving experience. We believe the Volvo you choose will be better than anything you've driven before. Combine these great cars with attractive 'A-Plan by Volvo' pricing and you have a tremendous incentive to offer your employees.
In addition to high quality, world class safety technology and clean Scandinavian design, every new Volvo comes with additional peace of mind.
Comprehensive 4-year/50,000-mile warranty.
Complimentary Factory Scheduled Maintenance for the first 3 years and 36,000 miles.
Complimentary 'On Call' Roadside Assistance for the first 4 years of ownership.
Additionally, U.S. consumers will receive complimentary Safe + Secure coverage with every new purchase.
Safe + Secure includes up to 5 years of comprehensive factory warranty coverage, 5 years of Wear & Tear
coverage, 5 years of Factory Scheduled Maintenance coverage and 5 years of Road Side Assistance.
Please visit www.volvocars.com/us for program details.